Can a piece of paper be art?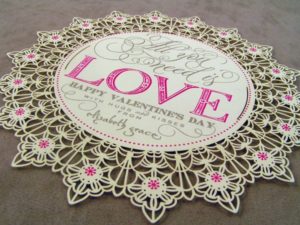 We can make it happen for you. Laser Cutting Shapes offers the highest quality custom paper laser cutting services with the most intricate detail level available in the industry. We specialize in custom file setup adjustments and make it easy for anyone to produce beautiful laser cut designs. We produce many different types of laser cut items including Wedding invitations, Save the Dates, Menus, Place cards, Gate-folds, Tri-folds, Candle Wraps, Pop-up cards, Plate Chargers, Backdrops, Business Cards, Fine Art Pieces and many more. We offer our services to clientele all over the world Including: Designers, Printers, Wedding/Event Planners, Architects, Museums, Corporations, Artists, and many more. All of our manufacturing is completed in-house at our facility in Columbus Ohio USA.
Highlights
We offer customized laser paper cutting for many different applications:

.
wedding cards/invites
greeting cards/note cards
commercial art applications / registered cuts to prints
fine art applications / production / one-offs
custom projects/designer applications
You can see our very own stationery line and other paper products at www.PapelCouture.com
Custom laser cut Wedding Cards, Invites, & More
Whether you want a traditional wedding invitation with laser cut text or a very intricate modern card, we can help you achieve the aesthetic you need for your special day. We can laser cut anything from paper such as wedding invitations, reply cards, place-mats, napkin rings, plate chargers, . We can use your own artwork, or we can help design something for you. Don't settle for the norm... stand out on your special day.
Custom laser cut Greeting Cards & Note Cards
We offer the most intricate and most unique laser cut greeting cards in the world. We have many designs to choose from and are constantly expanding our library of challenging designs. We can also personalize a greeting card with your design.