Anodized Aluminum
Anodized Aluminum can be laser engraved and etched. This kind of marking is common.
Vivamus quis mi. Sed lectus.
Phasellus accumsan
cursus velit. Phasellus tempus
Cras dapibus.
Cras dapibus. In enim justo, rhoncus ut, imperdiet a, venenatis vitae, justo. Donec interdum, metus et hendrerit aliquet, dolor diam sagittis ligula, eget egestas libero turpis vel mi. Fusce a quam. Nunc nonummy metus.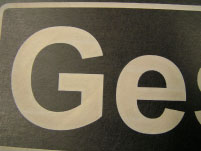 Features & Benefits of material
Aluminum is the lightweight metal of choice for a variety of projects, from personal crafts to the aerospace field. Laser cutting aluminum is often the best way to turn those product ideas into reality, because:
Laser is one of the few ways to engrave and mark aluminum without rips.
Laser can cut sharp corners and curves from even the most fragile aluminum material.
Laser is quick, capable of handling large or complex designs in limited time.
Because aluminum is a soft metal, it can be laser cut to be used on 3 dimensional shapes.
Q&A for Aluminum Laser Cutting