Laser cutting and engraving are powerful tool when it comes to the graphic communication and public art.
Signage for the well known companies as well as a signage for the new companies is absolutely a "must" condition to keep loyal customers.
Enhancement of the product with a company logo or message is a powerful marketing  tool
Bellow you can see some examples of how laser cutting and engraving is used as a branding solution.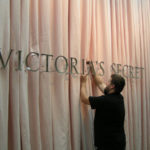 Laser cut signage for Victoria's Secret.
Material: Acrylic laminated with mirror Gold foil
Installation at VS headquarters in Columbus, Ohio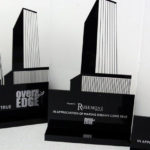 Acrylic awards for the real estate company.
Material: Black and frost acrylic.
Presented to the valuable real estate customers.
Acrylic signage for Bob Evans restaurants.
Material: Black and red acrylic.
Installed in hundreds of the locations .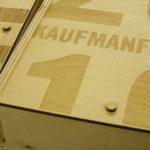 Wooden boxes for Kaufman Franco.
Material: Birch plywood.
Built and engraved by LCS hundreds of such boxes were sent to the Kaufman Franco's customers.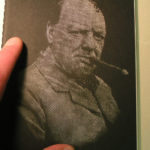 Cover of Moleskine notebooks.
Material: A notebook with Black cover.
Canonic notebook with laser cut image of Churchill – a new development of Moleskine marketing and sales .