Custom Laser Cut Felt Paneling and Wall Covering Products
Felt wall panels are a hot interior design trend — and for good reason. There are numerous advantages to using felt for your interior design needs, including its durability and versatility. In addition to being easily transformed into chic, modern decorative pieces, felt also has benefits such as insulation, water and chemical resistant, and noise reduction. The durability of felt panels also mean they are easy to maintain and that they are relatively inexpensive to produce and install relative to other paneling and wall covering options. At Laser Cutting Shapes, the most popular uses for felt paneling include: 
Felt Wall Panels
Hanging Felt Panels
Felt Wall Coverings
Felt Acoustic Panels
Felt Wall Art and Wall Decor
Felt Wall Tiles
Felt Ceiling Panels
And more!
The Laser Felt Eco used at Laser Cutting Shapes is the cleanest, greenest, and most versatile decorative textile available. Thanks to the precision of the laser cutting process, you have virtually unlimited options for producing interior panels and decorative wall coverings that meet your exact interior design needs and specifications.
Ready to learn more? Browse some examples of our laser cut felt paneling solutions below or click Start Your Quote to start your project today!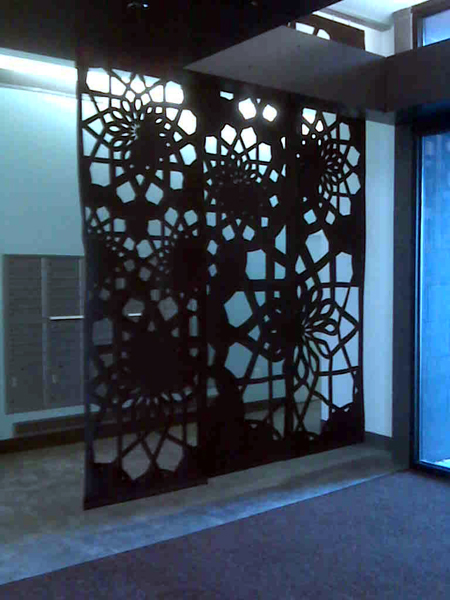 Examples of Custom Felt Panels and Felt wall coverings
Felt panels are classy, sophisticated and upscale. Their superior quality and stunning patterns make them the perfect décor item for both commercial and residential projects. The Laser Felt Eco used by Laser Cutting Shapes provides designers with endless possibilities for functional and artistic creativity. Any vector file can be used to create a stunning work of art that is unique to your paneling project.
Beyond our line of standard felt paneling and wall covering products, we offer 100% customized laser cutting services for felt paneling. Simply submit your vector based file and our team can help bring your felt design to life. Below are several examples of custom decorative felt panels cut to customer expectations using our precision laser cutting machinery.
Features & Benefits of Interior Felt Paneling Solutions
Use Laser Felt Eco on your next project and enjoy the beauty and performance of the cleanest, greenest and most versatile decorative textile available. Its many properties are unrivaled by any other single material. Some of these benefits include:
Laser cut felt is versatile and can be used in numerous applications. In its many forms, felt can be the best solutions for challenging product designs and intricate patterns. It can be cut to any size, shape or thickness while maintaining a clean edge.
Felt panels are dense and can help with noise reduction. These office panels can help make your space quieter and more comfortable. Acoustically absorptive felt products may be combined to provide a little or a lot of sound absorption with wall and floor coverings, hanging panels, acoustic panels, and baffles.
Felt is highly resilient, retaining its strength and unique properties for decades. Felt is is one of the oldest man-made textiles. It's also one of the most cost effective materials for use in interior design and space design applications because of its versatility and long term stability.
Felt is chemical resistant. Wool felt is also flame retardant and self-extinguishing. Synthetic felt and wool blend felt can be treated for flame resistance. All of Laser Cutting Shapes Laser Felt Eco panels go through FR (Fire Retardant) treatment and antimicrobial treatment.
Felt Panel Laser Cutting Q&A
"I opened just a couple (snowflakes), waiting for install Monday. They look fantastic!"
Vadim, The letters are FABULOUS. Thank you for your attention to detail on this project. And I look forward to working with you again in the future.