Hypalon Uses & Industries
Hypalon is a trademark for chlorosulfonated polyethylene (CSPE) synthetic rubber (CSM) noted for its resistance to chemicals, ultraviolet light, and weather. Due to its unique characteristics, Hypalon is extremely popular for military applications and other high performance use cases including:
Military Attire
Containment Suits
Outdoor Gear and Equipment
Protective and Decorative Coatings
And more!
Laser cutting Hypalon is ideal for products that require resistance to chemicals, extreme temperatures, and ultraviolet light and that require precision cutting and attention to detail. Laser Cutting Shapes has a diverse array of experience producing custom laser cut Hypalon products, designed to exacting specifications for use across numerous high intensity industries and use cases.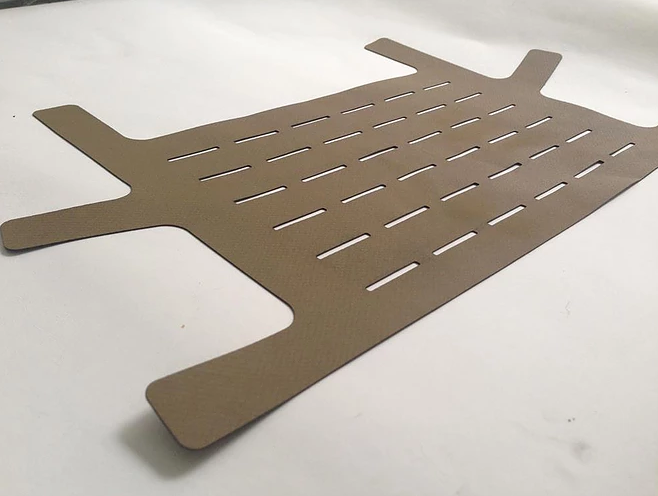 Hypalon Laser Cutting Features & Benefits
Hypalon has numerous features and benefits that make it ideal for specialty projects. Laser Cutting Shapes offers state-of-the-art facilities and brings experience with sensitive government and private sector product development initiatives that will help ensure the security and privacy of your projects. Some benefits to using Hyaplon and Laser Cutting Shapes for your project include:
An inherent strength of Hypalon is its UV stability. When properly manufactured, it can withstand extended exposure to direct sunlight with limited degradation of its electrical and mechanical properties
In addition to its unique UV stability, Hypalon is known for its ruggedness. Hypalon combines the flexibility of rubber with extreme ruggedness, allowing it to remain versatile while maintaining its reliability.
Hypalon is often used as an exterior coating thanks to its resistance to abrasion, ozone, gasoline, oil, chemicals, and environmental factors like mildew and fungus.
Our laser cutting equipment and facilities are well secured. We will sign non-disclosure agreements to prevent any concerns regarding security. We are proud to serve number of companies including NASA.
Q&A for Hypalon Laser Cutting
"I opened just a couple (snowflakes), waiting for install Monday. They look fantastic!"
Vadim, The letters are FABULOUS. Thank you for your attention to detail on this project. And I look forward to working with you again in the future.