Uses & Industries
Leather is used in clothing, stationary, decorations, accessories, and several different types of novelty products. Laser cutting lets you create more intricate and detailed designs to carve or cut into that leather. It can be used for practical purposes, such as creating difficult leather patterns, or it can be used for decoration to leather items.
In addition to leather laser cutting solutions, we offer leather laser engraving services for leaving detailed markings on leather products of all shapes and sizes.
Whatever it is you plan to create, our leather cutting and engraving services are there to help turn your design into something you can hold and feel. Contact Laser Cutting Shapes to start your leather laser cutting or engraving project today!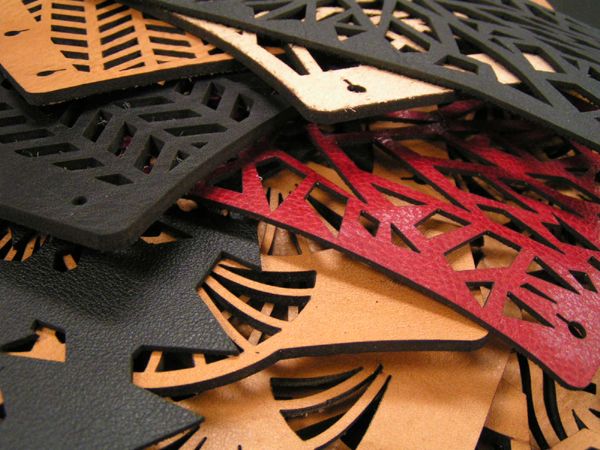 Laser Cut Leather Portfolio
Features & Benefits
Leather engraving creates eye-catching shapes in a traditionally bland material, and professional laser cutters can provide detailed, intricate cuts that are simply not possible by hand. Benefits include:
Laser cutting makes it possible to create small, sharp cuts and edges.
Laser cutting will not damage even the thinnest of leather.
Laser cutters are faster than other machinery, and perfect for high quantity items.
With a laser cut service, you are also able to cut interesting shapes, create visually impressive engravings, and design products that are genuinely impressive to the eye.
Q&A for Leather Laser Cutting
"I opened just a couple (snowflakes), waiting for install Monday. They look fantastic!"
Vadim, The letters are FABULOUS. Thank you for your attention to detail on this project. And I look forward to working with you again in the future.