Custom Laser Cut Wall Panels
Introduce color, improve the design and function of your office interior, or add patterns and texture to your walls with custom laser cut wall panels and room dividers from Laser Cutting Shapes. Choose from a wide selection of hanging panels, wall coverings, room dividers, partitions, soundproofing or acoustic panels and more.
Laser Cutting Shapes specializes in custom laser cut applications across an array of materials and can deliver laser cut panels in a variety of shapes and sizes. Whether you're looking for a laser cut felt soundproofing panel for your office to keep employees comfortable and focused at work, or a custom designed plywood room partition to bring your interior to life and optimize the layout of your interior space, the experts at Laser Cutting Shapes can help.
Browse popular paneling, wall covering, divider and screen applications below to learn more, or click Start Your Quote to start your project today!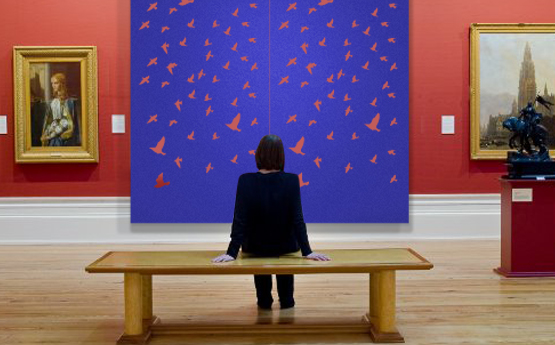 With the popularity of open interior floor plans, decorative laser cut panels and dividers have become creative ways to maintain versatility while delivering stylistic and functional advantages. Laser cut wall panels, dividers, screens, and coverings can be utilized in a number of situations. Common applications include:
Hanging Panel Systems

Privacy Walls

Decorative Screens/Architectural Screens

Room Dividers/Partitions

Wall and Floor Coverings

Soundproofing and Acoustic Paneling

Interior Drapery
The precision of laser cutting can be applied to a variety of different materials, allowing you to find the perfect fit for your interior panel, screen, divider, or wall covering project. From sturdy yet soft felt with its noise reduction capabilities to the wall bracing, cost effective wooden materials like plywood, our team of laser cutting experts can help advise on the perfect material for your job. Materials often used for wall coverings and interior panel designs include:
Laser Cut Plywood Panels and Dividers

Laser Cut MDF Panels and Dividers

Laser Cut Vinyl Panels and Dividers

Laser Cut Metal Panels and Dividers

Laser Cut Fabric Panels and Dividers
Laser Cut Wall Panels Portfolio
"I opened just a couple (snowflakes), waiting for install Monday. They look fantastic!"
Vadim, The letters are FABULOUS. Thank you for your attention to detail on this project. And I look forward to working with you again in the future.