Nylon is a man-made synthetic fiber that is known for its elasticity and strength. Nylon is great for laser cutting and in the case of fabrics, the cut edges do not fray after they are heat sealed with the laser. Our custom nylon laser cutting services can be used for the following applications:
Clothing and Fashion
Military Clothing
Specialty Textiles
Medical Devices
Interior Design
Tents
Parachutes
Packaging
And more!
Ready to bring your nylon project to life? Contact us today to request a free laser cutting estimate or to initiate a conversation with our team.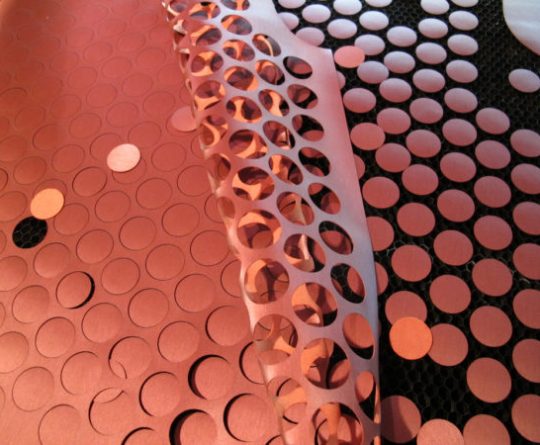 Laser Cut Nylon Features & Benefits
Historically, laser cutting materials have been hard plastics, wood or metal along with leather and felt. True fabric hasn't been an option—until now.  Nylon introduces a whole new world of product and design possibilities. Below we explore some features and benefits associated with nylon.
Q&A For Nylon Laser Cutting
If you are cutting with shears or blades, you know that some fabrics tend to fray. Laser cutting seals the edges of most textiles, including nylon, virtually eliminating the problem of fraying.
Cutting precisely with scissors or blades can be very challenging, especially if high volumes are needed. With laser cutting nylon, you can have repeatable clean cuts with a precision unachievable with shears or blades.
Yes! We have been fortunate enough to laser cut for such designers as Vera Wang, Zac Posen, Marchesa, Michael Angel, Cynthia Rowley and more. Usually lasers attract designers to be able to cut absolutely incredibly complicated internal shapes. Another benefit that lasers provide 100% repeatability when cut small or large production.
Featured Portfolio Projects